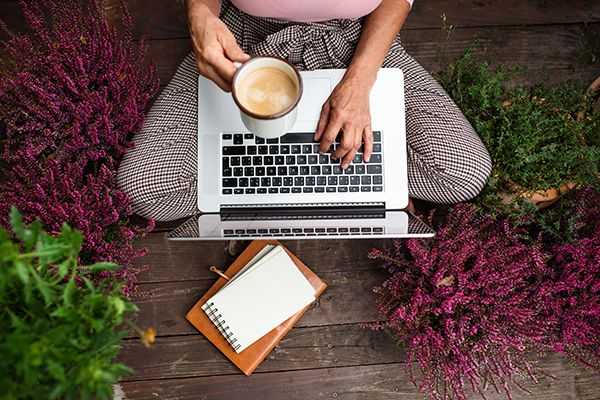 Why the Corona pandemic is a cloud with a Silver Smarter working lining?
DOMANDA: So working from home is now the 'new normal'?
RISPOSTA: PHILIP VANHOUTTE: Distributed working will indeed become an important part of our work routines. But as most have experienced by now, Home working is a mixed blessing: most of our homes have not been designed and equipped for work. Who has two dedicated office spaces? And which children bedrooms are ideal for 9.00 am to 5.00 pm home study? Sure it's nice to avoid long and stressful commutes and spend more time with family and kids. But sitting hours and hours behind a computer screen indoors – whilst nature is begging you to go out – is not the future of work we imagined.
Working at a distance however is nothing new. It's been around for 50 years under the banner 'Distributed working'. Technology and networks make it possbile, but it's not what most managers want or know how to handle… their associates neither. But it can be part of a most productive work life, as evidenced by millions of Virtual interactive professionals (VIPs). So here is the good news: there is plenty best practice to learn from. But it's a shame it takes a terrorism wave (9/11, Paris bombings, etc.), a financial crisis with (travel) cost reductions and lay-offs (2008-2009) or a pandemic for organisations to consider a fundamental new way of working … where home working is just part of the puzzle.
D: Do your Smarter working manifesto principles of 2014 still apply?
P.V.: Absolutely! The foundations of Activity based working and a Trust based culture of leadership and teamwork are rock solid. The proposed work philosophy is to give people a license of freedom to decide on the where, when and how of working. The nature of activities and some personal preferences then dictate the physical, digital and social infrastructure. It comes with new disciplines: workspace portfolio management, excellent space acoustics, virtual working with speech impact and last but not least: Distributed leadership success.
D.: Any new things-innovations you can recommend?
P.V.: For sure. Working with health authorities I've come to realize that Human Dimensions of Organisations have been neglected. If we want to leverage the immense human potential then our priority is to create Healthy and Joyful work environments.
It starts with a full endorsement of the Self-determination Psychology that teaches that the realization of human potential is best achieved under conditions of autonomy, competence and connectedness. So bye-bye to command&control.
It recognizes that ergonomics (from the hardware and software we use to the organisations that we design) need to be conceived with the capabilities and limitations of human beings in mind.
It appreciates that the nature of work is working with nature, outdoors and indoors. Because nature inspires, boosts creativity, energizes our mental and physical batteries and makes us more kind and generous. It may sound like flower power, but it isn't! Ilaria… you know it better than me!
D: You are a big fan of positive organisations & happiness at work, please share!
ILARIA SANTAMBROGIO: The Covid emergency confirmed what has become increasingly evident in recent years, that the risks that most affect organizations are linked to the so-called externalities, that is, factors exogenous to the context in which the company operates. These systemic and global risks require companies to develop strategies that increase resilience, that generate flexibility and speed to respond appropriately to changes. These characteristics which are now necessary to face these challenges are mainly contained in the human dimension of which Philip mentioned before and which unfortunately, as said, is often underestimated if not ignored.
The founding principles of the Science of Happiness and Positive Organizations can be a guide in generating awareness of the centrality of the human dimension and finally starting to be active protagonists of our future.
The Science of Happiness is a discipline born from the convergence of consolidated sciences (Positive psychology, Biology, Quantum physics, Economics), frontier research (integrated medicine or in the spiritual field), philosophy and oriental disciplines that affirm that happiness, in addition to being an emotion, it is a skill and can be trained. Happiness as emotion is what we feel when we are happy. Happiness as competence is what we do to make happiness a sustainable dimension of life over time, it has to do with how we use our internal resources to deal with what happens to us.
The application of the studies of the science of happiness in the organizational context determines the foundations of the Science of Positive Organizations aimed at building work environments where people can flourish and generate results that exceed expectations. Happiness at work is not a continuous high five, pats on the shoulders and smiles but it is able to release the potential held in each of us and consequently generate exceptional business results: + 31% of productivity, +37% of sales, + 44% of retention, + 300% of creativity (HBR, Gallup, Shawn Achor, Forbes) and then -125% of burn out, -66% of illness, -51% of turn over (HBR , Gallup, Shawn Achor, Forbes).
Many believe that happiness is something to be achieved through fame, career, money. Research, on the other hand, tells us that happiness is a decision rather than a goal and it is something you can choose to make at work.
The three main levels on which a positive organization is based are:
a purpose, a strong 'why', which transcends individual interests, therefore recognizable by all members of the organization; studies from Positive Organizations confirm that when people are oriented towards a higher good they tend to unite, transcend personal interests and sacrifice themselves for the group.
Widespread and positive leadership; this not only has direct advantages for leaders, but also enormously influences the satisfaction of those around them and the business results. Happy leaders do indeed make better decisions; they are better in giving priorities where there are scarce resources; achieve better business results and manage their time better.
Consistency of all organizational dimensions (purpose, culture, behavior, processes, procedures, environments and routines).
Happiness is born within a relational, trusting dimension. Generating trust is the unexpected outcome of a 'non-instrumental' relationship based on reciprocity. Trust is in crisis when the ideology that efficiency is sufficient to guarantee growth takes over. The crisis of trust is generated whenever it is thought that the market can do without the contributory and expressive capacity of people.
The culture of 'positivity' and positive leadership is the most 'updated' product of the evolution of human consciousness and is able to respond in a more functional and complex way to the needs of our time and to future ones.
D: Are leaders ready for this new normal?
P.V.: Sadly No. Anybody can be appointed to people or project manager without the necessary qualifications nor experience. That's madness: imagine a world where you start driving a bus without schooling or become a medical doctor or financial advisor without a license. Yet it's perfectly normal for an engineer to become leader of his colleagues based on his subject matter excellence only. The consequences are enormous: more than half of the burnouts are a direct consequence of poor leadership. That's why I am advocating People leadership driving licenses. Where driving stands for inspiring, motivating, listening, coaching, mentoring etc.
Leading from a distance will fail if human dimensions are not understood and supported. But no panic: assessment, training and development for Distributed work success has been around for years. It covers 13 competencies in the domains of relationships, flexibility, productivity and culture and produces leaders that lead remote teams through exemplar work-life balance, trust and effective communications.
D.: And what's the ideal profile of the Professional individual contributor?
P.V.: They need to understand their brain chains and develop disciplines to constantly create great value add. Find work environments where they can concentrate, avoid the avalanche of distractions from technology, especially social media and the always-on mobile toys. Hence I recommend digital minimalism and a healthy information diet.
Great value add comes from innovation and creativity spurred by curiosity best sparked by nature! Yes nature, do you have it around you at work? Real or even virtual? It makes a heck of a difference. So next time you're stuck at work: go for a walk, experience nature! As a corporate athlete you also need to re-energize through physical exercise, good nutrition and sleep, cognitive inspiration (I love a good book) and emotional intelligence. Failure to charge these batteries will burn you out, guaranteed.
It's also important to be a Smart Presenter: shining in your field of expertise, conveying key learnings with arresting storytelling, powerful speech impact and mastery of collaboration tools. Because in virtual sessions, it's three times as hard to catch and keep your audience's attention: so become a good business entertainer. I call them the VIPs and based on your teaching Ilaria, I now call them VIPsquare "Virtual interactive positive professionals".
D.: And what about distributed team success, what are the critical success actors?
P.V.: Well, we all know people get tired of (ever more, now virtual) meetings. So the key question is how can one stop the spread of meetingitis and make meetings productive and fun? It starts by realizing there are teams and groups. Teams is where the real work gets done and it shouldn't take more than six people contributing. The essentials of communication, coordination and collaboration needs to be understood. No time here to go into detail.
Good planning, exciting content, solid preparation, respect for people's time, energetic participation and voice intelligibility are the basics. Trustful culture, good listening and conflict management can make a huge difference too.
In terms of technology: let's admit it's often fragile (or not working). Network quality of service is far from guaranteed and the proliferation of collaboration tools doesn't help. How many conference calls get going timely? My recommendation: streamline the number of tools, train people well, give them fresh gear, old computers and smartphones suffer from digital cholesterol. And break the meetings up: nobody can focus for more than 40 minutes a go.
D.: What about the Physical workspaces?
P.V.: Well even in world of Virtual work good physical workspaces are still important. No matter whether it's in your business office, coworking space or home: you need to have different kinds of workspaces. Concentration space where you can study, author a research piece or commercial proposal without interruptions… knowing that with every distraction it takes you about 20 minutes to get back into flow. Where is that place in your home? Maybe it's in your garden? Communication or collaboration space where you can energetically work remotely with others. Where energy is not whispering but talking with power… hence noise for others. You need contemplation space to re-energize between demanding individual or group work. Everywhere good acoustics are crucial to isolate yourself for your own good but also in respect of others. Try to explain that to your four years old daughter. Nature can come to the rescue in many cases: the outdoors, your little garden, your balcony.
D.: But it's about more than work, right? A fresh perspective on life&career?
I.S.: Yes indeed! I decided to accompany people and companies towards a positive transformation that I call 'human realization'. It's about Human dimension (as said above): stop the dominant focus on 'doing' and 'having' and refocusing on being (we are human being and not human doing). And about realization that is 'mental awareness'. Moving from a mechanistic view (let's say 1.0) of people as mere resources, to the awareness that people have their 'wholeness' with needs, values, talents and abilities (approach 4.0). From an ego systemic vision (focused on individualism, 1.0), to the awareness that companies are complex, adaptive and living systems that lead to an eco systemic vision (vision 4.0).
On is highlighted because it calls for action, activation, the need and urgency to start this change now in order to build more beautiful and sustainable futures. In this innovative approach based on the Science of Happiness I am deepening the studies related to the surprising power of nature in the workplace as mentioned above by Philip. Furthermore, the Science of Happiness is the basis on which I am building, together with Silvia Nova, a model for implementing true Smart working. This model is circular and systemic (all the dimensions have the same relevance), where the individual is at the center and every dimension makes happiness and trust a coherent organizational strategy. The purpose of the model is to make companies more resilient and capable of producing extraordinary results.
To continue to spread solid knowledge on these topics, I'm part of the Positive genes community of 2BHappy Agency. We are professionals who share values and behaviours where happiness is the base for a cultural model of our society.